Practice tools and tips!
Tuesday, June 13, 2017 by Carolyn Nelson | Uncategorized
Practice Effectively!
This article was written to give students encouragement and advice when it comes to practicing efficiently. Whether you are a new student or seasoned one - efficiently practicing your pieces makes all the difference. Some are preparing for recitals/concerts, but others just need this advice for daily tools in helping them practice.
And remember....when you approach a difficult piece the only way to do it is - Divide and Conquer!
Stopping mistakes before they start
When you practice in easily digestible sections from the very start, you are cutting your learning time in half by not making huge mistakes from the beginning.
Setting Daily Goals
Make a goal to focus on one problem section a day and get it down really well. Be reasonable with yourself and limit your focus to 1, 2, or 4 measures at a time. Play as many repetitions, slowly, with your best concentration, as the section needs to improve. Mindless repetition just for repetition's sake won't help you improve. Review what you've done the next day of practice and then move on to fix the next section that needs attention.
Three Times in a Row Perfectly
You will know each section well if you will make it a rule to play it 3 times in a row perfectly (including no pauses!). Remember,
a pause is a mistake!
Fix it right away, otherwise you will keep pausing at the same spot. Keep it smooth!
Sectional practice gives you safety spots, or good starting points
A safety spot will be your salvation in a performance if you somehow lose your way. Practice starting at the beginning of every main section. These are your "safety spots." The more difficult the piece, the more safety spots you need, even every 4 to 6 measures. If you can do this you know the piece very thoroughly.
Don't skip "hands separately" practice!
If you can't play the piece or section hands separately, you don't know the piece well enough to perform it in a contest. Even up to the day of the performance, practice hands separately, LH first. It is common to think you know the piece, only to have the memory fade during a performance because you didn't know the LH well enough. Then practice hands together.
Start slowly, then build tempo
When learning, the perfect tempo for you is the tempo at which you can play with NO pauses or mistakes. Above all,
get the fingering first
, along with playing the notes and rhythms correctly. You are not playing correctly if you have a sloppy fingering that doesn't work well. You will pay for sloppy fingering in time you'll have to spend later to unlearn it and then relearn the correct way. Your teacher coaches you on fingering;
her advice simply is the best way for your hands to move fluently around the keyboard
.
Excerpts from Vahlpiano@blogspot.com
Music lessons spur emotional and behavioral growth in children
Thursday, August 6, 2015 by Carolyn Nelson | Uncategorized
Music lessons spur emotional and behavioral growth in children, new study says
By Amy Ellis Nutt Pulitzer Prize-winning reporter Amy Ellis Nutt covers health and science for The Washington Post.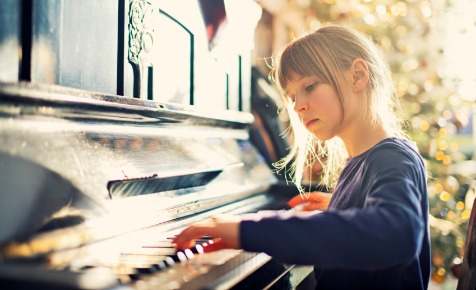 Music training not only helps children develop fine motor skills, but aids emotional and behavioral maturation as well, according to a new study, one of the largest to investigate the effects of playing an instrument on brain development.
Using a database produced by the National Institutes of Health Magnetic Resonance (MRI) Study of Normal Brain Development, researchers at the University of Vermont College of Medicine analyzed the brain scans of 232 healthy children ages six to 18 specifically looking at brain development in children who play a musical instrument. (The original study did not indicate specific instruments.)
"What we found was the more a child trained on an instrument," said James Hudziak, a professor of psychiatry at the University of Vermont and director of the Vermont Center for Children, Youth and Families, "it accelerated cortical organization in attention skill, anxiety management and emotional control."
The cortex, or outer layer of brain, changes in thickness as a child grows and develops. Previously, Hudziak and colleagues Matthew Albaugh and Eileen Crehan found relationships between cortical thickening and thinning in various areas of the brain responsible for depression, aggression and attention problems. This research, announced last month in the Journal of the American Academy of Child & Adolescent Psychiatry, was different.
"I wanted to look at positive things, what we believe benefits child development," Hudziak said. "What I was surprised by was the emotional regulatory regions. Everyone in our culture knows if I lift 5-pound, 10-pound, 15-pound weights, my biceps will get bigger. The same is true for the brain. We shouldn't be surprised we can train the brain."
Because the study's participants were all mentally healthy children, Hudziak thinks the positive effect of music training on those who are not could be significant.
"A kid may still have ADHD", he said, "It's the storm around it that improves".
Inspired by his own research, and having never learned to play an instrument, the 56-year-old Hudziak decided to take viola lessons last year.
"I had this passion for health promotion in children, it seemed silly not to do it myself," he said.
Though music isn't his only health-related extracurricular activity — Hudziak also engages in regular exercise and meditation — he believes the viola lessons contribute to his overall wellness. They have not, however, contributed much to his overall playing ability — at least not yet. The sanguine psychiatrist had just one word for his viola skills:
"Horrible."
Piano Play Dates for 4-6 year olds! (Shhh - it's really piano lessons!)
Friday, July 31, 2015 by Carolyn Nelson | Uncategorized
Dear Parents of young children (ages 4-6):
Are you wondering if it's too early to start your child in piano lessons?

Does your child sing or hum a lot, play on a piano that is in your house, dance every time music is playing or pretend to play an instrument or conduct an orchestra?
Do you have other musicians in your family?
Have you been wondering when it would be a good time to start your child in piano lessons?
I am thrilled to be able to offer a wonderful new curriculum by Piano Pronto Publishing called "Roadtrip! - My Musical Memory Book". "Roadtrip" is a primer level method book for very early beginners ages 4 and up. Students have weekly 30 minute "play dates" (lessons!) where they master basic music fundamentals while creating a musical memory book that becomes a keepsake item to commemorate their maiden voyage into piano lessons. There are improvisation activities, ear training, composing, and duets with the teacher.
If interested, please fill out the Contact form and we will contact you as soon as possible to schedule a free consultation with you and your child (no charge), or email me at acornmusicstudios.com
Carolyn Nelson
Owner/Teacher of Acorn Music Studios